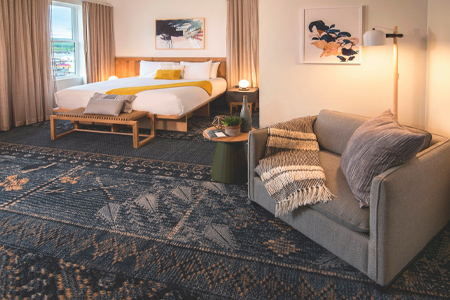 Masudur Khan is no stranger to the hospitality industry. The owner of twelve properties along the Oregon Coast, he understands the kind of planning and organization that goes into a successful operation. So last fall, as he broke ground on construction for the new Saltline Hotel in Seaside, he was thinking past design, engineering and construction to hiring, training and opening day for the 2020 season.
"Normally you hire employees, train them and organize everything and have a plan."
By early March, as COVID-19 hit the U.S. and Oregon began to shut down, it became clear that all the planning in the world couldn't have prepared him for the unique situation of trying to launch a hotel during a global pandemic.
"We had been planning to open in mid-June. It was really hard because of supply chain problems, CDC guidelines, social distancing rules and masking. We had to go through a lot of extra work," Khan says. "Everyone worked with the goal that we need to open this summer. We took the challenge as a team."
Khan shifted opening day to mid-July and struggled through the difficulties heaped on the construction process by COVID-19. Then he faced other problems as the date approached. For one thing, many of the hospitality staff he'd hired were either afraid to come in for training or had found other jobs during the delay. The elevator that serves the four-story building wasn't up and running until the day before opening, so all furniture, fixtures and mattresses had to be transported up a lift and through a window. Some final inspections and approvals didn't happen until the day before opening.
But in a testament to persistence and grit, the 64-room, upscale comfort Saltline Hotel opened on July 17 and has been well received.
"Within a week we had everything very nice, and we are getting 5-star [Trip Advisor] reviews," Khan says.
The Saltline Hotel has been a dream in the making for some time. Khan had his eye on the property for years. It was the site of the City Center Motel—Seaside's oldest motel, which had opened in 1938. The building had seen better days, but the location, just a block from the Prom, was exceptional. He bought it in 2013, gave it a bit of a facelift, and continued to run it as a budget motel while he sought out financing, design and engineering for the new building.
Khan had a hunch that Seaside could attract a different kind of visitor with a higher-end hotel.
"Our company has other mid-scale hotels, but I always thought that Seaside needs this hotel catering go the upscale market," he says.
Alongside the new Saltline, Khan continues to run twelve rooms of the old City Center Motel, which has a multi-generational following. Khan also owns Inn at Seaside, River Inn at Seaside and Coast River Inn.
While others suggested the hotel would compete against his other properties, Khan believed it would bring new visitors to Seaside. He says that comments from guests at the hotel are proving him right.
"People say we have a standard that Seaside has not offered before. It is bringing additional people, a new market," Khan says.
Joshua Heineman, Director of Tourism Marketing for the City of Seaside, agrees that the Saltline can capture a new demographic.
"The Saltline actually represents quite an exciting addition to the lodging scene," Heineman says.
Heineman says the property is likely to draw members of what he calls the "creative tech" class from urban centers like Portland, Seattle and San Francisco.
"They are looking for places that have a little more thought behind each room," he says, like how the room is laid out, what materials were used in construction and the amenities that are offered.
Heineman says while the Coast has typically drawn families, storm-chasers and outdoor recreationalists, creative tech represents a huge opportunity.
"It is a whole new segment and it happens to be a segment that is growing exponentially," Heineman says. "Once you get those people out to the beach with their families or their spouses, they tend to come back."
For the time being, Khan is working to keep things running smoothly. Like hotels everywhere, The Saltline has restrictions and systems in place for safety during the pandemic. Check-in is limited to one guest from each party. Staff are required to wear masks at all times, and so are guests unless they're in their rooms. Khan has employed extra staff to focus on cleaning luggage carts, chairs, door handles and hallways. Additional cleaning procedures have been added to guest room cleaning. Breakfast is grab-and-go, and pool times must be reserved.
"We are doing everything to protect our employees and guests and prevent the virus from spreading," Khan says. "Of course we were not expecting this overall. I took it as a challenge."
Looking toward the fall, both Heinman and Khan anticipate a potentially longer season as children attend school online and adults continue to work from home.
Heineman says his organization will be advertising to target that potential traveler.
"I think it's a great way to do school and work from a different locale and to keep this place viable into the fall. It will also just be more sustainable," he says.
For his part, Khan is keeping an open mind knowing that nothing is certain.
"Before we could say, ok, I have 10-year data. Now you have to plan every day," he says. "We adjusted well and we are pretty happy with the outcome. As long as I survive this year I am happy."