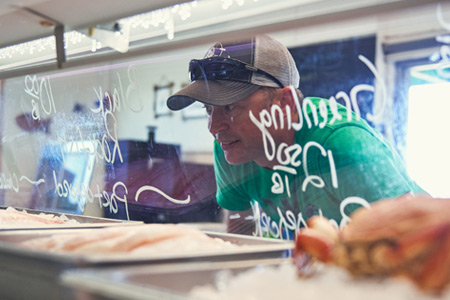 If there's one silver lining during this storm of COVID-19, it's local resilience. To match the heartbreaking news of closing businesses and historic numbers of unemployment, Oregon's communities have demonstrated their resilience powerfully and gracefully. On the Coast, small towns and their dedicated citizens have been investing in local businesses and local food systems like never before.
So how does that fit into the mission of the Oregon Coast Visitors Association (OCVA)? Well, our mission is to "inspire travel and strengthen collaboration to create and steward a sustainable coastal economy." Additionally, (and brace yourselves for this one) our vision is "A coastal utopia for all." Although every vision of a utopia is different, there is one thing we're sure they all have in common: some really good food.
Investing in local food systems is something that coastal businesses, organizations, destination marketing and management organizations, agencies and locals have been doing for a long time. The COVID-19 pandemic has proved why that work is so important and has pushed OCVA to be more active in this space. Over the past several weeks we have been holding conversations and researching investment opportunities, and we're excited about our immediate future goals.
Our organization is looking to collaborate, convene and/or contribute to:
Shortening food supply chains
Securing scalable aggregation options for the smallest of producers (both farmers and fishermen)
Installing better technology solutions for producers, purveyors and consumers to communicate
Developing and refining more efficient fulfillment and distribution methods from producers direct to restaurants, marketplaces, coastal residents and of course visitors
At this very moment, OCVA is working on two things to accomplish those goals. The first is supporting "producer direct to consumer" relationships and sales. We have happily partnered with the Oregon Farmers Market Association (OFMA) to hire a Technical Assistance person who will support farmers markets around the state to access and successfully use online marketplace systems. This will directly support goal three of "installing better technology solutions for producers, purveyors and consumers to communicate." Secondly, we have been exploring additional technology systems to build a parallel solution to virtually aggregate and connect producers directly with chefs, market managers and other wholesale and retail purchasers.
Once these various producers and markets are using these online systems, we will help raise awareness and heavily market these assets to locals and visitors alike (when it's safe to do so). We are able to participate in this space due to strong partnerships with entities like the Oregon Farmers Market Association, Oregon Department of Agriculture, Food Roots, North Coast Food Web, Ecotrust, Clatsop Economic Development Resource, Friends of Family Farmers and a number of others who are experts in this field.
At this point you might be wondering why OCVA, a destination management organization, is working on local food systems. We get it, this isn't a space occupied by tourism-focused entities. However, it's a perfect match. Stronger local food resiliency is a visitor industry investment, a community resilience investment, and it all aligns perfectly with our current projects and two-year plan. By creating systems where visitors can easily find local food products while traveling and even order them when they get back home, we can turn lifelong visitors into lifelong customers and therefore increase the value of each visit. We also expect that creating easier systems for local retail and restaurants to access local food will bring more local seafood into our businesses and enhance experiences for visitors and locals alike. Imagine this utopia where local producers and local businesses are easily working together to provide high-quality, unforgettable meals and memories. Imagine the (marketing) content.
COVID-19 has also shown the importance of investing in community resilience. It'll be interesting to see what businesses are able to open faster: those relying on a local fishing boat and producers, or those relying on large corporate companies waiting for the long supply chain to get back in order? On the Oregon Coast we have a bounty of fresh food year-round and it should be a simple process for locals to access coastal protein sources and small fishers and producers to provide food to their own communities. Investing in local producers and local businesses will certainly promote "a sustainable coastal economy."
We heard the 611 community leaders who responded to our 2018 stakeholder engagement survey, and their commitment to prioritizing local food investments was clear. We've supported the three sub-regional food trails spanning the Oregon Coast and have seen the benefit to individual businesses and our entire region from these destination development projects. We have continued to see leadership from Travel Oregon in the agritourism space as they continue to support and invest in Oregon Food Trails around the state, and we look forward to our continued partnership with them. When asked how we will "inspire travel and strengthen collaboration to create and steward a sustainable coastal economy," one of our favorite answers is "local food systems."