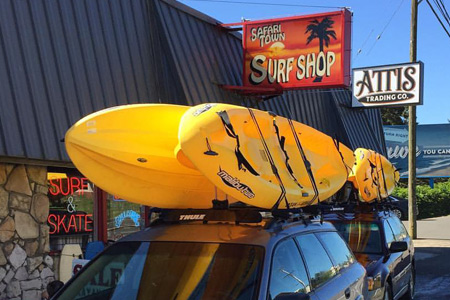 Small businesses on the Coast are known for their grit and commitment to their communities. During the pandemic, those characteristics have shone even more brightly. Recent grants from Travel Oregon and the Oregon Hospitality Foundation have recognized those efforts and helped give a boost to the region's small, local tourism businesses.
In June, Travel Oregon announced the COVID-19 Emergency Response Grant Program, through which it awarded more than $800,000 to Oregon businesses. The funds are intended to help with job retention and business stabilization, including payroll tax. The grants came from funds Travel Oregon shifted from its annual competitive medium grant program.
Applicants included lodging properties, tour operators, guides and outfitters, federally recognized tribes and destination marketing organizations. Of 332 applicants, a total of 121 received funding, with a majority of the grants awarded to businesses in Oregon communities with fewer than 35,000 residents. Forty grants went to applicants on the Coast. The full list can be viewed on the Travel Oregon industry website.
"Travel Oregon knew there was a lot of need, in particular for small lodging properties in rural communities of which there are many along Oregon's 365 miles of coastline," said Travel Oregon Grants Manager Michelle Woodard. "We also know the Coast has been heavily impacted as one of the hardest hit regions in the state and we saw that confirmed by the number of applications submitted—the most of any tourism region. The Coast also saw the largest number of grant awardees. We're hopeful that the grant funds will be able to tide some of these entities over for the short-term."
Family-owned Safari Town Surf Shop in Lincoln City received a $5,000 grant from the Travel Oregon program. Owner Tony Gile said he plans to use the funds toward payroll tax. Like most Coast businesses, Safari Town relies heavily on seasonal tourism and even more than some since it focuses on outdoor activities like kayaking, fat-tire biking and surfing. Gile said that missing the Oregon, Washington and California spring breaks this year was a big blow.
"We were very thankful for the help we received," Giles said.
An additional funding opportunity, Travel Oregon's annual Small Competitive Grants Program, reopens in August 2020.
Another industry organization, the Oregon Hospitality Foundation, founded the Hospitality Help Fund to enable Oregon restaurants to feed vulnerable community members. By June, the organization had awarded more than $40,000 to ten charitable programs that Oregon restaurants developed during the crisis. The funding came in part from the organization's fundraiser, Takeout & A Movie, which sold more than 650 tickets and funded more than 11,500 meals.
"We were inspired by the innovation of restaurants who immediately saw the sudden and extraordinary need to support frontline workers and those with food insecurity," said OHF Executive Director Wendy Popkin. "I believe our event was successful because it was so topical and its purpose both touched the heart and provided reassurance that, together, we can meet the pandemic's challenges.
Coos Bay's 7 Devil's Brewing Company was awarded $2,640 for its Community Meal Program, which provided meals to homeless residents and unemployed service industry workers. Harbor Light Restaurant in Reedsport prepared more than 500 meals and desserts for its local food bank with its $2,000 award. Restaurant O in Coos Bay used a $2,060 award to cook for homeless children, first responders and foster families.
OHF continues to accept donations and plans to hold a second Take Out & A Movie night on July 26. Restaurants can apply for the funds at the OHF website.
– By Eileen Garvin
– Photo courtesy of Safari Town SurfShop