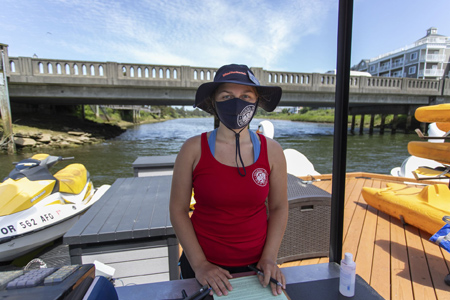 It's indisputable that 2020 has been a year like no other for small businesses and DMOs on the Coast. Over the spring and summer, tourism industry members rolled with the punches of general uncertainty and phased reopening guidelines. And while mask-wearing customers standing six-feet apart for curbside pickup might be the most visible manifestations of the new normal, another invisible element poses more of a challenge: disgruntled visitors.
"People are super stressed out," says Josh Heineman, Director of Tourism Marketing for the City of Seaside. "You can't pick it apart from the pandemic."
While residents and business owners have long complained about visitors' bad attitudes, this year seems to be worse. Then there are other problems, Heineman says, like full parking lots, illegal parking, overflowing trash cans and overwhelmed restrooms.
As noted in our story "Reckless abandon: Addressing the problems of over-tourism on the Coast," these issues existed prior to the pandemic.
"These problems were already identified. Groups had efforts in place to address them and the pandemic happened, hamstringing those efforts at the worst possible time," Heineman says.
The good news is that there are solutions to help small businesses and DMOs mitigate these issues as well as the growing problem of unhappy customers. Here are some of the resources available to Coast businesses and DMOs
Travel Oregon COVID-19 Toolkit
Travel Oregon has created a comprehensive COVID-19 Toolkit to inform and support tourism industry members during the pandemic. The page includes the latest updates from Governor Kate Brown as well as guidelines for visitor centers reopening, resources for visitors, adventure travel guidelines and the Impact of COVID-19 on the Travel Industry Report released in early September.
The COVID-19 Toolkit also offers in-depth information in marketing and messaging, survey opportunities and data, and federal, state and local resources as well as travel information and links to state and federal public health entities for the most up-to-date information.
Alexa Carey, Director of Community-Based Services for Travel Oregon's Destination Development department says these resources come at a key time.
"Visitors are coming from outside of Oregon. We have different rules and regulations they are being asked to comply with, and that can be a source of conflict," she says. "De-escalation is very important. We have to be able to address people's frustrations."
Carey says visitors might not realize that businesses face fines or closures if they don't uphold state guidelines.
"There needs to be respect and understanding. Everyone is doing their best. We need more patience and grace," she says.
Ambassadors program
The North Coast Trailhead and Beach Ambassadors Program originated with the 2018 Travel Oregon North Coast Destination Management Studio. Last year it began posting volunteers at popular North Coast locations like Oswald West State Park, Cape Kiwanda State Natural Area and Rockaway Beach to answer questions and educate visitors about how to visit the Coast, with an emphasis on stewardship and safety.
Aspirations to grow the program this year were stymied by the initial Stay Home, Stay Safe order and then by the fact that most volunteers were older and, as such, more vulnerable to COVID-19.
Volunteer Coordinator Kyla Sjogren says though she was unable to recruit the anticipated number of volunteers, the program has been a great success during the summer surge.
"My experience has been pretty positive despite the number of people who are coming," she says.
Sjogren was able to offer information about local COVID-19 protocols, direct visitors to less crowded locales, distribute trash bags and simply model good behavior.
"People want to do the right thing. I really believe that," she says.
Sjogren lives on the Coast and thinks the program will benefit locals and visitors alike. She says it offers residents the chance to take part in shaping their communities by talking to visitors about how to visit the Coast thoughtfully.
"Human to human interaction is sometimes better than signage," she says.
Tourism industry workshops
In August, Travel Oregon offered an online forum for tour guides, operators and outfitters called "Managing Disgruntled Customers & Staying Positive During COVID-19." The forum can be viewed here.
Scott Bricker, Director of Product Development for Travel Oregon's Destination Development division says the event yielded four key takeaways for dealing with disgruntled customers: Let customers have their say; apologize for letting them down; offer them options to resolve the situation; and if those options don't work, ask the customer to suggest a plan for resolution.
Travel Oregon is planning another statewide training for frontline staff this fall with a date to be announced soon. Travel Oregon will also have a state of the industry webinar in coming days, which will offer projections for the fall and winter season.
Photo courtesy of Don Frank / Visit Seaside