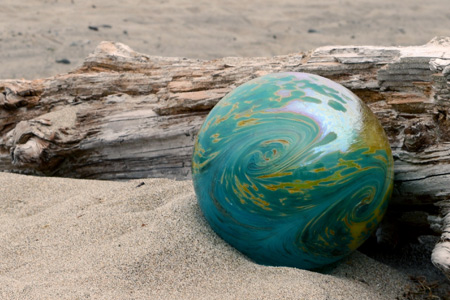 Oregon Coast festivals are as iconic as grey whales, nesting guillemots and "The Goonies." But these days, with large gatherings on hold, festivals will not be taking shape as usual. Still, many festival organizers, committed to keeping the spirit alive, have jumped into virtual events. Armed with an enthusiasm for embracing new technologies and love of their traditions, festival organizers are earning successes and learning valuable lessons.
The Cannon Beach Chamber of Commerce recently launched the 56th Annual Sandcastle Contest as a virtual event. The signature contest has long featured masters, amateur and family teams competing for the win with elaborate sand castle creations. This year the contest, which typically happens over the course of one day, will unfold virtually between June 13 and September 7. Competitors are invited to build their creations during that time period and submit a photo or short video. Entries will fall into two main categories—those that include Haystack Rock in the background and those that don't. In this way, people can participate from anywhere in Oregon, the U.S. or the world and will not be required to go to Cannon Beach to join in.
"I really love keeping the tradition alive even though this year we had to do it virtually," said Debbie Nelson, owner of the Basketcase flower shop and Sandcastle Committee Chair for the past ten years.
Nelson (who is known locally as the Sand Castle Queen) said it was clear early on that the June event, which has taken place continuously since 1964, could not happen live.
"We typically have about thirty thousand people on the beach shoulder to shoulder," she said.
The decision to go virtual followed soon after Governor Kate Brown announced that all large gatherings would be postponed through September. October seemed an inadvisable season to hold the outdoor contest. And yet Nelson and other committee members were unwilling to cancel the beloved event. Nelson came up with the idea of inviting a longstanding masters team to kick off the contest. That team, made up of family members who could gather safely and unmasked, created a YouTube video of their build, which the chamber has used to promote the virtual event. The chamber has created an Instagram account for the contest and is also using other social media platforms to promote it.
To others planning virtual events, Nelson advises listening to all members of the committee and leaning into collaboration.
"Tap into everybody else's energy," she said. "That is where we had a lot of success. It is wonderful to work collectively."
In Lincoln City, the annual Finders Keepers glass float treasure hunt is on hold. For more than twenty years, visitors have been invited to look for the hidden glass floats, which last year numbered three thousand. Instead of canceling the beloved tradition entirely, Explore Lincoln City conceived of the Finders Keepers Home Edition. Each week, visitors can enter for the chance to win a float by answering a trivia question about the area (Example: "What is the name of Lincoln City's unofficial sea lion mascot that called Nelscott home during the 1930s?") Five people who answer correctly each week will be selected to receive the floats.
By early July, Explore Lincoln City had received more than 20,000 responses from float enthusiasts, far exceeding expectations.
"It has been massive," said Edward Dreistadt, Explore Lincoln City Director. "The Finders Keepers landing page is more popular than the home page."
Dreistadt says the popularity of the program demonstrates how much people miss the annual event.
Explore Lincoln City also experimented with a virtual vacation series called Looking Forward to Lincoln City to get people excited about planning their next trip. The program includes a series of videos with themes like sunsets, hiking and bonfires. Explore Lincoln City has also helped promote virtual cooking shows with Lincoln City Culinary Center Manager Donna Riani— What's Cooking Lincoln City and Dashboard Dining.
On the South Coast, the South Slough Reserve has four different virtual events under its belt. The organization held the South Slough Second Saturday Stewards meetings virtually in May and June as well as a Tide of the Toddlers class and a summer science camp for kindergarteners and first graders.
Deborah Rudd, South Slough Reserve Public Involvement Coordinator, said that developing virtual programs for children came with unique lessons. Organizers used Facetime Live to broadcast the toddler program to protect the privacy of younger children, but used Zoom internally so that it could switch presenters easily. The Zoea Camp, a science camp aimed at kindergartners and first graders, was a hybrid of at-home events led by parents using activities boxes provided by the reserve plus Zoom live events each morning and afternoon.
The Second Saturday Stewards program, which combines education and conservation, offered a session on invasive weeds and one on native plants. Each virtual event began with a video presentation from Reserve Stewardship Coordinator Dr. Alice Yeates, followed by a live discussion with a panel of local experts. Participants were encouraged to share questions about specific plants on camera.
"It was nice to have the interaction because it was adults and at the end people could turn their camera on a plant and ask a question. It was good in that sense to have the back and forth. It really does depend on your audience," Rudd said. "Even when we return to live events we might offer some sort of virtual programming. I see, in the future, a hybrid of both."
– By Eileen Garvin
– Photo courtesy of Explore Lincoln County