"If you're thinking about visiting Oregon's coast, remember to be thoughtful of hospitality workers too. Our restaurants, hotels, and small businesses have endured a lot, and most are struggling to hire enough staff. So please be flexible with your plans, dine during non-traditional times if possible, or even consider a mid-week visit. Your business means everything to us and so does your kindness."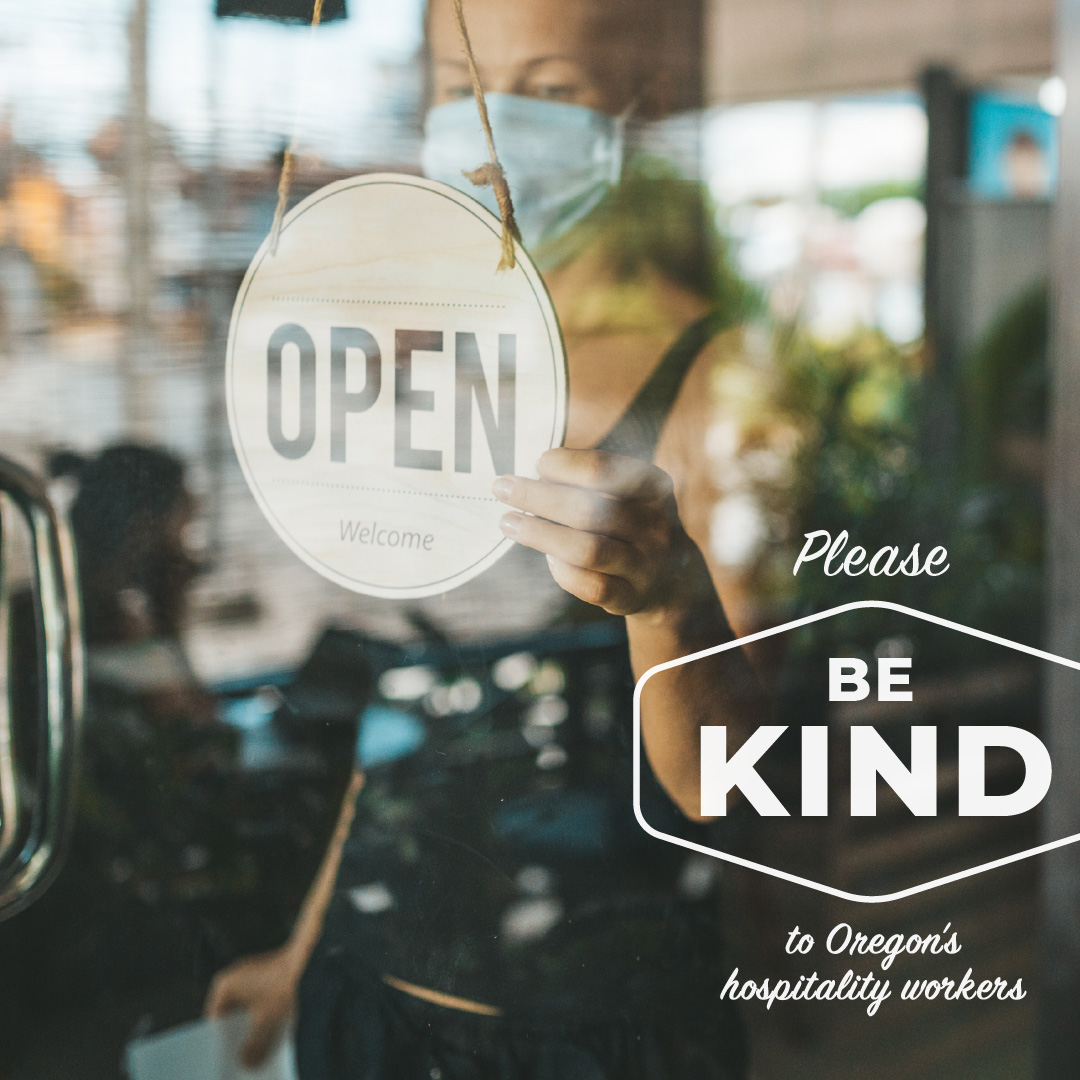 There is a major mismatch going on right now between visitor expectations and business realities. Our loyal and excited visitor community is thrilled to come back to the Oregon Coast after online schooling, health uncertainties and travel restrictions. They are ready to regain their sense of normalcy in their favorite destination: the Oregon Coast. However, workforce shortages which have been widely reported on are restricting that 'normal' unforgettable experience our guests are used to. The mismatch: Visitors are expecting 2019 experiences while businesses are recovering in 2021.
DMOs and Chambers along the coast including: Astoria- Warrenton Chamber, Seaside VCB, Cannon Beach Chamber, City of Garibaldi, Tillamook Coast Visitors Association, Explore Lincoln City, Travel Lane County, Coos Bay – North Bend VCB, the Bandon Chamber and the Oregon Coast Visitors Association held an online meeting to see what communities were doing to support businesses and how we could create a unified message and ideas to support our communities. Many of these organizations were responding to media requests like in this article by Beach Connection, communicating via newsletters and radio interviews, and creating social media tiles that partners could share.
As a region, the Oregon Coast decided to put together unified messaging to help communicate the need for patience, kindness and respect from visitors. This social media toolkit is intended for organizations that represent the business community (like chambers of commerce, DMOs, local government, interest groups, etc.).
Check out the toolkit here and feel free to use and share any part of it.
Sea amable con las personas de hospitalidad
por OCVA
"Si piensa visitar la Costa de Oregon, recuerde ser atento también con las personas que trabajan en la industria de hospitalidad. Nuestros restaurantes, hoteles y pequeñas empresas han pasado por muchos apuros y la mayoría está teniendo dificultades para contratar suficiente personal. Así es que, por favor, sea flexible con sus planes, coma en horarios poco tradicionales cuando sea posible o, incluso, considere su visita a media semana. Su preferencia es todo para nosotros, así como su generosidad. "
Actualmente hay una gran disparidad entre lo que los visitantes esperan y las realidades que están viviendo las empresas. Nuestra leal comunidad de visitantes está emocionada por venir otra vez a la Costa de Oregon, después de haber estudiando en línea y después de la incertidumbre sanitaria y las restricciones para viajar. La comunidad está lista para recuperar su sentido de normalidad en su destino favorito: la Costa de Oregon. Sin embargo, la escasez de personal, que se ha reportado ampliamente, está limitando esa inolvidable experiencia 'normal' a la que nuestros huéspedes están acostumbrados. La disparidad: los visitantes están esperando una experiencia similar a la de 2019 mientras las empresas se están recuperando en 2021.
Organizaciones de Gestión de Destinos (DMO, por sus siglas en inglés) y cámaras de comercio a lo largo de la costa, entre otros: la Cámara de Astoria- Warrenton, VCB de Seaside, la Cámara de Cannon Beach, la Ciudad de Garibaldi, la Asociación de Visitantes de la Costa de Tillamook, Explore Lincoln City, Travel Lane County, VCB de Coos Bay – North Bend, la Cámara de Bandon y la Asociación de Visitantes de la Costa de Oregon condujeron una reunión en línea para ver lo que estaban haciendo las comunidades con el fin de apoyar a las empresas y para ver la manera de crear un mensaje conjunto e ideas para apoyar a nuestras comunidades. Muchas de estas organizaciones han respondido a las solicitudes de los medios, como en este artículo de Beach Connection, comunicando mediante gacetas y entrevistas de radio, y creando anuncios en redes sociales para que los asociados puedan compartir.
La Costa de Oregon decidió crear mensajes unificados regionales para ayudar a comunicar la necesidad de que los visitantes sean pacientes, amables y respetuosos. Esta serie de herramientas en las redes sociales tiene como intención apoyar a las organizaciones que representan a la comunidad empresarial (como las cámaras de comercio, DMOs, gobiernos locales y grupos de interés, entre otros).
Revise aquí la serie de herramientas; úsela y no dude en compartir cualquiera de sus partes: https://docs.google.com/document/d/12t8maEYGqujCyjqV9ErUEFEEAe6u7qlx40Qh6ryKy2Y/edit#heading=h.bmn4yfz06dw