Below the Falls Lodge
Relax and revive in this artistic 'cabin' with wonderful views of historic Glenn Creek from every room. An architectural dream, you enter this lodge style home through a pivoting hobbit style front door with hardware from the 1800's. Highlights of this original home include a gourmet kitchen with labradorite granite counters, 800 year old juniper tree spiral stair case, huge beams and exposed rafters, a sauna, and a romantic wood stove. Also each upstairs bedroom has a hanging bed with three 8 foot skylights above for indoor star gazing. Original artworks from local artists are throughout the home. Many pleasantries await the curious such as embedded fossils in the cracked mud walls.
Nestled amongst towering fir and cedar trees, with windows everywhere, you'll feel and see nature's presence. This home site has a remarkably peaceful way about it. You really can sit on the couch by the fire, listen to the creek and watch the salmon and steelhead spawn (November-March). You won't even have to venture outside to get wood for the fire, just use the indoor wood box. With much less wind, temperatures are usually 15 degrees warmer than on the beach or in Coos Bay and the famous coastal fog won't bother you here.
Recently featured in Southern Oregon Magazine & KCBY 11 TV's ~In Focus~ 'Goin' Green' and also Oregon's Solar Home Tour, this is a unique 'green' home. This home was built with environmentally friendly materials. Building with little impact on the surroundings was very important to us during construction. The myrtle hardwood floor in the kitchen and living room was milled on site which came from trees that stood where the house is now. Same story for the beautiful maple flooring in the ½ bath. All of the large beams and fir flooring came from two 4′ thick 104 year old douglas fir trees which also stood and were milled where the house is now. The fir trees sprouted after the last forest fire that came through the canyon. One of our neighbors fell a sixty five year old redwood that was over six feet thick! We used some of it as a wonderful wainscot paneling throughout the house. All of the finishes used are no or low VOC. Surrounding the house is native vegetation, huge trees and a few herbs and spices for cooking.
You'll enjoy the fully equipped kitchen with labradorite granite counters. The kitchen island has a new five burner gas stove with a convection oven and warming oven. The island has plenty of granite and wood counter space. Hanging from the exhaust hood are stainless, non-stick, and cast iron cookware. Also included are coffee and a grinder, coffee maker, toaster, microwave, utensils, chef knives, glasses and frosty cocktail glasses in the freezer. The dining room table has a river view and can seat eight. There is also seating for three at the island bar. From the kitchen you can visit with the folks in the living room thanks to the open floor plan. Beside the wood stove are two chairs and the futon couch with reading lamp. A CD changer and TV with a DVD player and VHS machine are in the downstairs bedroom. Bring your favorite videos or browse our selection of movies.
The property has 150 feet of creek frontage with great views of Glenn creek, the forest and distant cliffs. Enjoy wildlife viewing with River Dippers, Chipmunks, Kingfishers, Great Blue Herons, Screech Owls, Pileated Wood Peckers, Elk, an occasional Bald Eagle or River Otter and other wildlife from the house and back deck. Build a fire and have lunch on the nearby picnic table and benches.
-Golden and Silver Falls State Park-
Hiking trails wind through scenic canyons to each of the waterfalls. They plunge over sheer rock cliffs to moss covered boulders 100 to 200 feet below. Hike to the top of Golden Falls to get an eagle's-eye view of the cascading waterfall and giant old-growth firs and cedars.
Golden Falls- at a height of 200 feet, plus 40 feet of steep talus cascades just below is quite likely the most impressive waterfall in the Coast Range of Oregon. A rather large amount of water flows over this waterfall during winter, creating quite a cloud of spray that warrants rain gear if you want to get up close and stay somewhat dry. Definitely a sight to behold.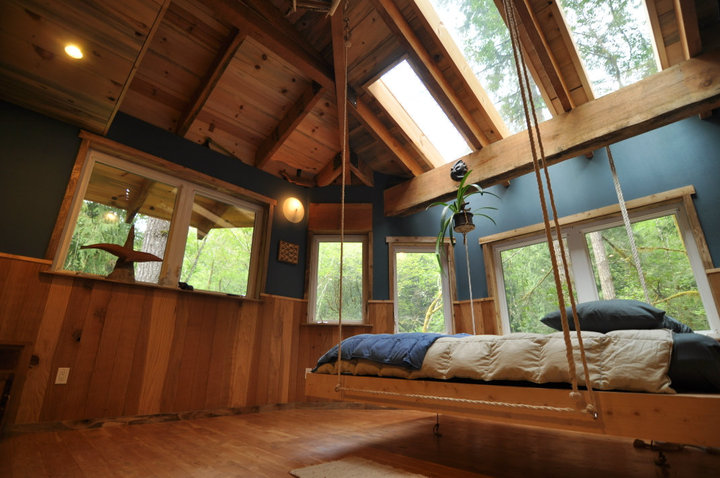 Contact Info
14956 Glenn Creek Road
Coos Bay, Oregon 97420
541-404-9349
Amenities
Pet Friendly
Kitchen
Swimming
Mountain or Water View
Non-Smoking
Family Friendly
Fireplace
Internet Access