Central and Southern Oregon's dramatic coastlines are even better on two wheels.
Consider it biking's first law of proportions: The fatter the tire, the more places a cyclist can ride. Combine that with Oregon's first natural law of beauty — its 363 miles of stunning, publicly owned coastline — and together you have an exceptionally cool way to cruise the Coast.
With tires nearly twice as wide as a standard mountain bike tire, fat bikes can better float over loose sand and absorb the shock of rocks and roots when rolling inland without the need for a heavy full-suspension system. They're slow and cumbersome on pavement but ideal for a mix of off-road riding in every season.
The South and Central coasts seem almost purpose-made for fat bikes, with great scenery and awesome beaches. Here are some suggestions to get you rolling.
Sea Stacks and Streams Near Gold Beach
The Southern Oregon Coast often enjoys milder conditions than much of the rest of the state, which can make riding here enjoyable just about any time of the year. Pineapple Express Adventure Rides in Port Orford has a fleet of fat bikes to rent and reams of information on where and how to use them. The shop can also arrange shuttles for one-way riding adventures.
For starters, it's hard to go wrong with a ride like the Banana Belt Ride, a 12- to 14-mile round-trip adventure that lets you explore both the shores south of Gold Beach — some of the loveliest coastline on the Oregon Coast — with a taste of inland singletrack.
You can do the loop starting anywhere, really, but best to head south on the sand first to avoid the wind, which can be assertive in summer. Start at the beach at the Cape Sebastian State Scenic Corridor, appreciating the views of sea stacks offshore as you cross a few streams until about 1.7 miles south of the Pistol River Bridge. Head inland to catch the Oregon Coast Trail and ride a 1.5-mile loop around some wetlands on singletrack before hitting the pavement on the Oregon Coast Highway for the ride back north.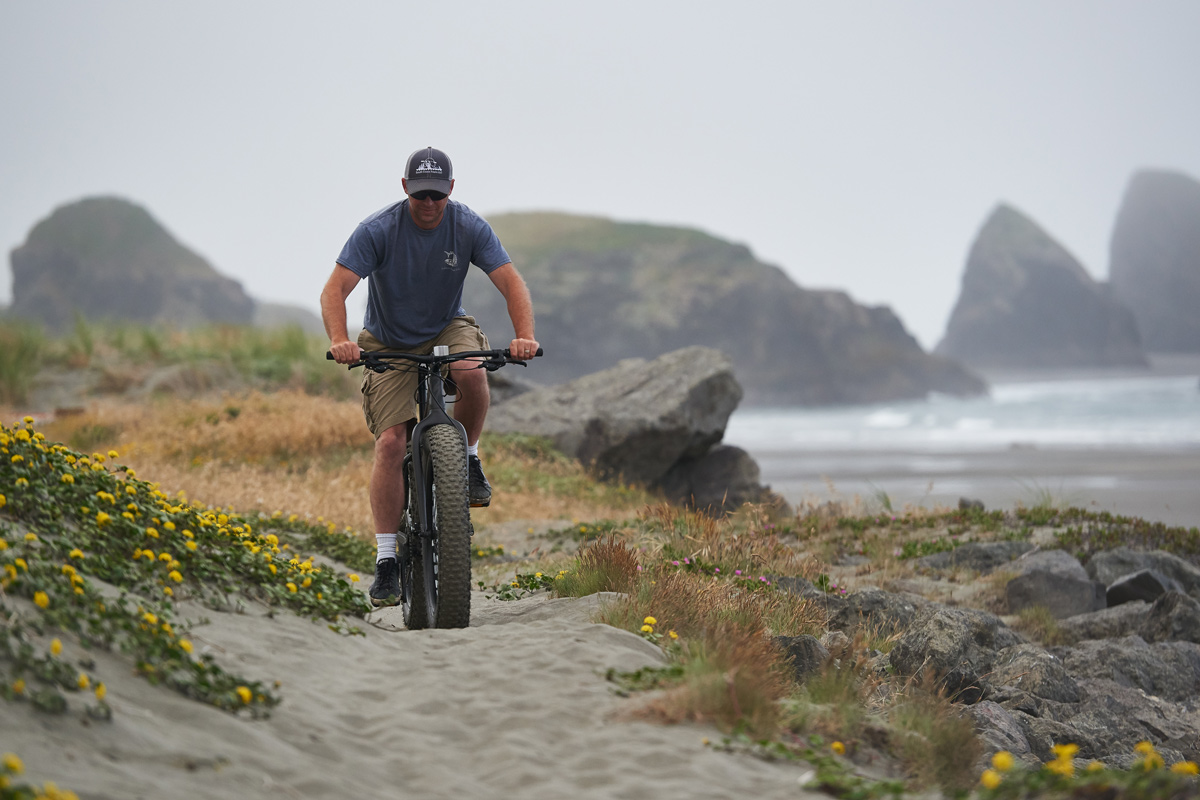 Wild Coastline From Cape Blanco to Port Orford
Stretching south from Oregon's westernmost point at Cape Blanco State Park, the Oregon Coast Trail wanders south for about 6 miles before reaching the dynamic beaches of the Tseriadun State Recreation Site in Port Orford, where winds shift the sand throughout the seasons. In between, fat-bikers have a fun place to spin along remote cliff-lined beaches.
Though riding along the flat sandy stretches isn't too challenging, attempting the entire route will take some adventuring. Be sure to check in with the experts at South Coast Bicycles in Bandon or Pineapple Express Adventure Rides, who can help with identifying longer routes to do during very low tides and point out possible hazards. Advanced riders need to ford the Elk River about 2 miles south of Cape Blanco, and that can be tricky unless the tide is low or water conditions are just right in summer.
From Tseriadun, it's a quick detour to climb about 300 feet up to the viewpoint overlooking the Pacific at Port Orford Heads State Park. From there it's easy to hop back on Highway 101 to access Battle Rock Park, where another long, beautiful stretch of sand curving southwest to Hubbard Creek Beach and beyond awaits you. If the creek is shallow enough to ford, there's another access to the highway in the dunes beyond the bridge, or head back to town the way you came.
Ocean or Bay Views in Lincoln City
"Fat biking makes people feel like kids again," says Tony Guile, owner of Safari Town Surf Shop in Lincoln City. "You can ride through creeks, over sand — it's awesome."
So are the beaches and the riding around this central coastal town, where Guile offers self-guided and guided fat- bike tours. The most popular trip, he says, is a 6.4-mile out-and-back ride north to Roads End State Recreation Site. Along the way, you'll have spectacular outcroppings like God's Thumb and Cascade Head Preserve to fill your views. Guile recommends bringing a backpack with a lunch and exploring the tide pools along the way.
Riders looking for a little more action can point the handlebars south for an 11-mile out-and-back bike ride to Siletz Bay. You'll likely see plenty of marine birds and clamdiggers in action along the route. You should time that one for a low tide in the early morning before the north wind kicks up and makes for a formidable opponent on the ride home.
If You Go:
Be mindful that some beaches may be closed to riding from March 15 to September 15 while shorebirds like the western snowy plover are nesting. Read up on the birds at Oregon State Parks, and be on the lookout for yellow beach signs announcing nests nearby. Better yet, hire a fat-bike guide in Lincoln City at Safari Town Surf Shop (for two or more people) or Bike Newport in Newport (for four or more people) and let them show you the best of what's out there.
Always check tides before you go and to plan your ride around low tide. You'll find it easiest to ride on compact, wet sand. Saltwater can be brutal on a bike's components, too, so best to resist splashing through the surf. For other ideas on where to ride, download Travel Oregon's fat-biking brochure.
Want to round out your ride with some proper singletrack? Head to the multiuse Winchester Trail System between Bandon and Coos Bay for 30 miles of trails. The new 32-mile, mountain-bike-specific Whiskey Run System, just west of the Winchester system, has gone through numerous expansions over the years and is rapidly helping to make this part of the Coast a mountain bike paradise.
– By Tim Neville