Classic coastal fare with takeaway options and water views.
Oregon's seafood restaurants take pride in supporting local fishing fleets, and it's always a treat to sample the fresh catch of the day when it's caught nearby. Fish and chips are served in beachside communities up and down the Coast — expect succulent filets with crunchy coating often served with fries, a side of coleslaw and tartar sauce for dipping. These popular spots, several with markets attached to take home seafood, are a great place to start.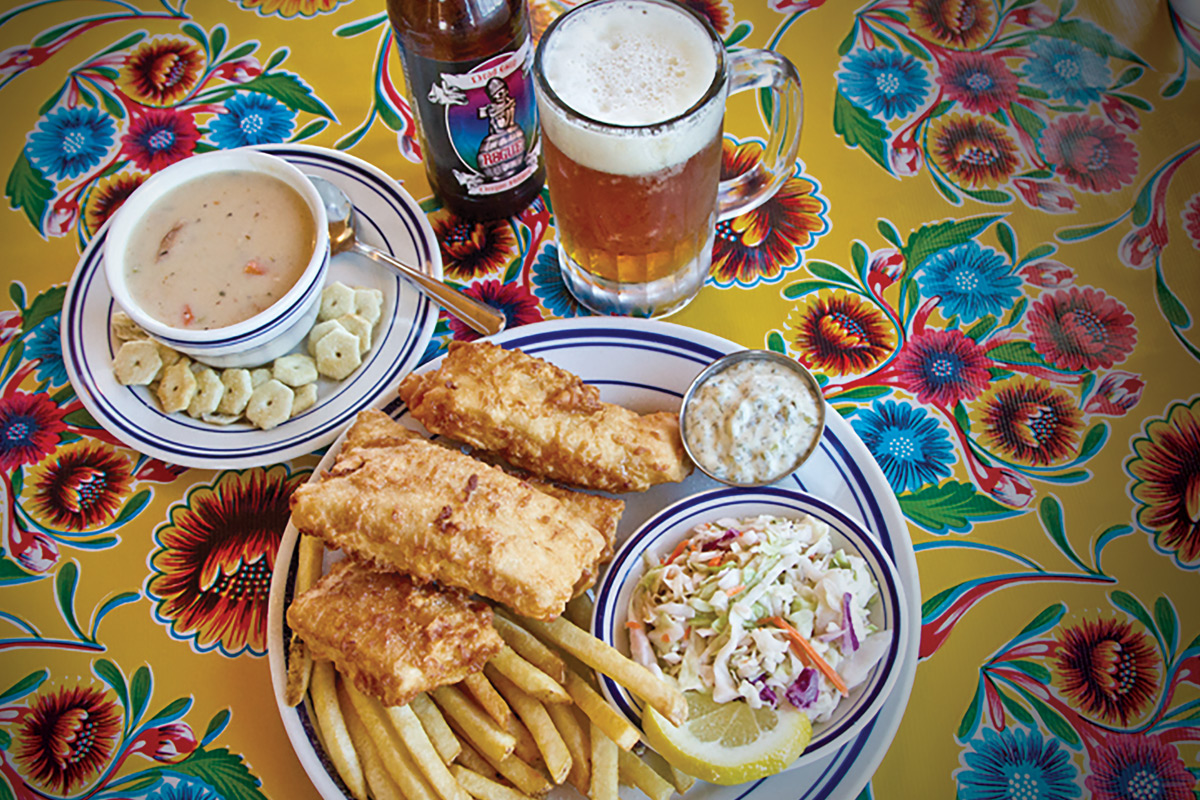 Crispy Cod and Lighthouse Views on the South Coast
Local Port Orford hot spot The Crazy Norwegian's Fish & Chips serves up moist Pacific cod — and locally caught options when the fleet is in — coated in a light tempura batter and fried until golden brown. Their hand-cut fries and homemade, relish-studded tartar sauce are particularly good, and other sides include either pasta salad or sweet, tangy and slightly spicy coleslaw. If there's a line at this popular fish hut, add your name to the list and take a walk down to the beach just a few blocks away. Save room for a slice of the ever-changing pie selections.
For casual fine dining with a view, you can't go wrong with Edgewaters restaurant in Bandon. Take in views of the mouth of the Coquille River and its squat lighthouse from a spacious covered patio as you enjoy generous portions of chunky fish and thick-cut fries. You'll love the sustainably caught rockfish — a medium-firm fish that tastes a little sweet and nutty — in a light ale batter. On breezy days, you'll find plenty of window seating on two floors inside.
Fresh and Fried Fish on the Central Coast
A colorful little shingled shop decorated with large seafood cutouts, buoys and signs hawking freshness, South Beach Fish Market — just south of Newport's downtown on Highway 101 — specializes in a wide variety of local seafood, much of which comes from Newport's commercial-fishing fleet. It's hard to choose among baskets of fish and chips that include choices like popcorn shrimp, chinook salmon or fresh deep-fried oysters to enjoy on the outdoor patio. Pro tip: The clam chowder can be ordered with extra shrimp/crab meat in a sourdough bread bowl. Don't leave without a slab of salmon to throw on the beach-house grill later or house-canned albacore for sandwiches.
If you love Luna Sea Fish House's original location nestled inside a cozy house setting in Yachats, be sure to check out their second outpost in Seal Rock, a green and white chapel-style building with vaulted ceilings and lots of booth seating. Owned by a local fisherman, Luna Sea is beloved for its flaky fried lingcod, a popular groundfish species that can grow to great size. It comes with steak fries, Texas toast and sweet coleslaw made with apple. (You can't go wrong with albacore, halibut or chinook salmon, either, depending on the season for these fisheries.) At both locations, all the outdoor seating is pet-friendly for well-behaved, leashed pups.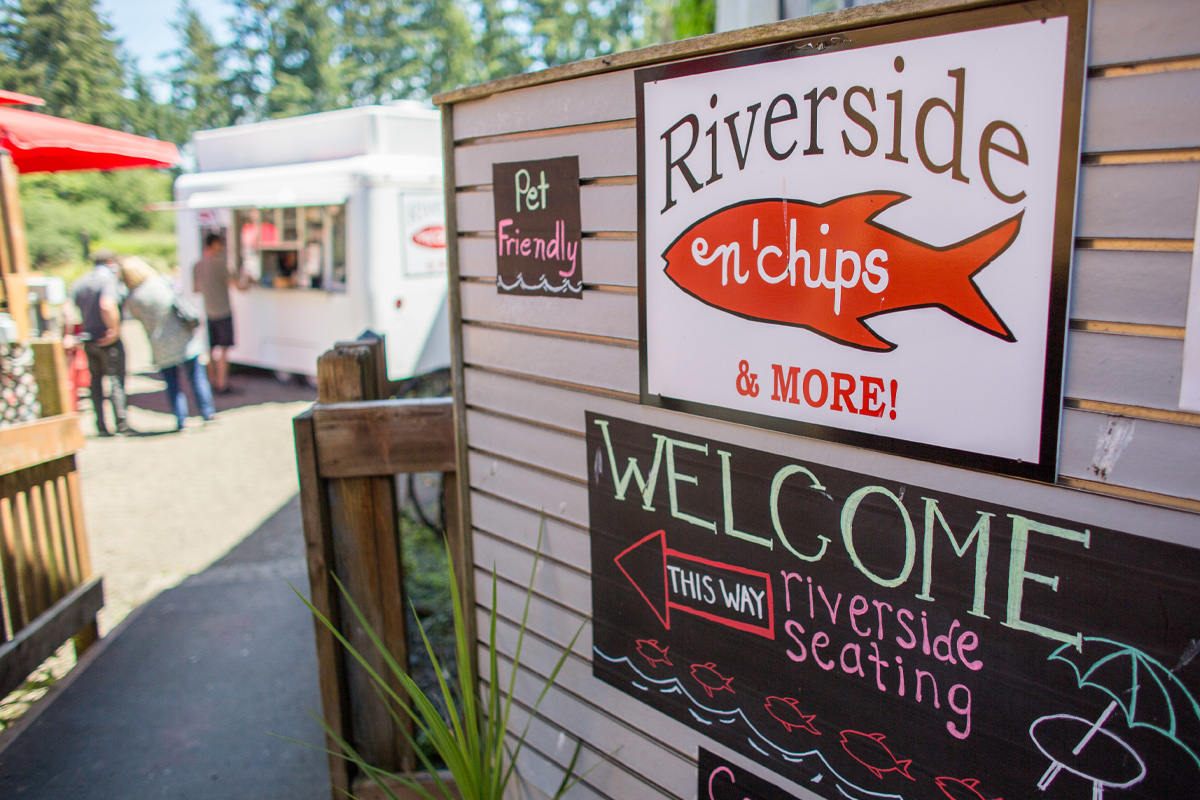 Riverside and Oceanside Seafood on the North Coast
The basket at Nehalem's Riverside Fish & Chips — Pacific cod in a crispy, crunchy but never-greasy breading — might be one of the best fish-and-chips baskets you've had in a long time. One, two or three pieces of light, flaky and perfectly moist Pacific cod come with seasoned and battered fries, along with housemade coleslaw mixed with dried cranberries. The food cart is right on the Nehalem River, tucked behind a strip of shops on a grassy oasis with plenty of outdoor, dog-friendly seating — you can even paddle up by kayak.
Selling meals and raw Pacific Northwest seafood on ice just blocks from the shoreline in Cannon Beach, Ecola Seafoods Restaurant & Market is the place to go for excellent fish and chips. The market's local fish are all line-caught, so you can feel good about supporting sustainable practices. Fried fish and chips options come in a light batter and can be the customer's choice of cod, halibut, salmon, prawns, scallops and oysters. Can't decide on one? Opt for a combination seafood basket. For those who don't want fried food, there are plenty of choices for hearty meals, including grilled salmon or halibut, whole Dungeness crab, and shrimp melts. 
Like the venerable Bowpicker Fish & Chips, which operates out of a converted gillnet boat in Astoria, Grizzly Tuna in Seaside opts to serve only locally caught albacore tuna from its little red drive-through hut alongside Highway 101. Tuna might not be the first thing that comes to mind when you think of fish and chips, but Grizzly Tuna's deliciously dense pieces of albacore fried in a thin layer of crispy panko breading served with crispy thin-cut fries will change all that. Don't miss the albacore fish tacos: fried fish in corn tortillas topped with slaw and cotija cheese.
– By Jenni Moore