Explore the North Coast of Oregon car-free!
The NW Connector includes Sunset Empire Transportation District (SETD) and Tillamook County Transportation District (The Wave) and covers much of the northwest coast of Oregon. NW Connector and the POINT intercity buses connect to towns up and down the coastline and allow you to enjoy your time at some of Oregon's most stunning coastal towns without the stress of driving or parking.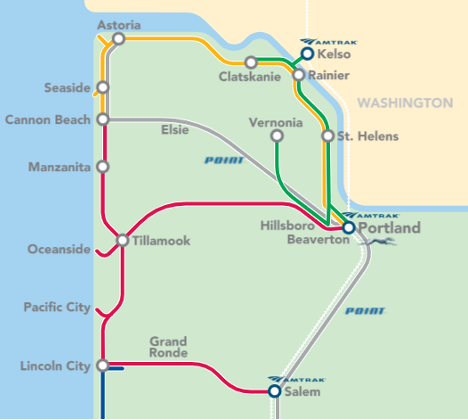 Visit NW Connector's website for trip-planning tools including maps, schedules, and service updates.
From Portland (Union Station)
NorthWest POINT connects Portland, Beaverton, and Hillsboro to the coast through Cannon Beach, Seaside, and Astoria.
NW Connector (SETD) Lower Columbia Connector connects Portland, Rainier, and St. Helens to Astoria. From Astoria, you can hop on a number of bus routes to get you where you need to go!
NW Connector (The Wave) Route 5 connects Portland, Beaverton, and Hillsboro to the coast through Tillamook. From Tillamook, you can visit Oceanside, Pacific City, Manzanita, and more!
From Salem (Downtown Transit Center)
NW Connector (The Wave) Route 60X connects Salem and Grand Ronde to the coast through Lincoln City. From Lincoln City, head north to Pacific City, Tillamook, and Oceanside!
NW Connector offers public transportation in northwest Oregon. Try their route mapping tools as you plan your trip.
You can also spend the day at some of the coast's most beautiful beaches and natural areas, which are accessible by bus!
NW Connector (SETD) Route 101 and the Pacific Connector routes both stop at Sunset Beach State Recreation Site
NW Connector (SETD) Route 20 stops at Tolovana Beach State Park
From Tillamook, Oceanside is a quick ride on NW Connector (The Wave) Route 2A
The beach is a walk or bike ride away from bus stops in town when you visit Seaside, Cannon Beach, Manzanita, and Pacific City
Intrepid biker? Check out the Oregon Coast Bike Route for more information on riding parts of the 370-mile scenic route.
More of a city rider? Many coastal towns offer bike rentals, including fat tire bikes for riding on the beach! Or, you can bring your bike on any NW Connector or POINT bus.
For routes, schedules, and updates, visit:
Want to bring your bike with you? All buses on the NW Connector and POINT routes are equipped with bike racks or bike storage.