Astoria artists invite visitors to Studio Tour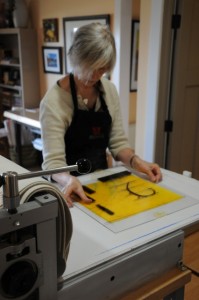 Artists from around Astoria, the north coast's vibrant arts community, welcome visitors into their studios during the Astoria Studio Tour 2014, on Saturday, July 26 – Sunday, July 27, 10 – 4.  The Astoria Studio Tour 2014 is free and is presented by the Astoria Society of Artists.
"Meeting artists one-to-one in their studios is an exciting and personal way to experience art and to see how artists work," said printmaker Gin Laughery. "It's a special connection with artists and their art, in their studios."  Visitors will enjoy seeing the studios where fine art is created – sculpture, fiber art, painting, prints, photography, mixed media, and more.
Astoria's artists are inspired by the historic logging and fishing town's beautiful setting, the mighty Columbia River, and even the ever-changing weather. The varied life experiences of work and travel also inform the pieces visitors will see.
Visitors can use the AST brochure/map of participating studios to design their own self-guided tour to see the artists and mediums they choose.  The brochure/map will be available in early July on the AST website and at galleries, hotels, shops and other Astoria venues.  Representative pieces by the participating artists are also on the AST website, www.astoriastudios2014.org.  For more information, contact [email protected].
Story by Laurie Caplan Photo: Astoria printmaker Gin Laughery treasures the pleasures and puzzles of making her art