Celebrate International Migratory Bird Day At Yaquina Head
On Saturday, May 11, the Bureau of Land Management is celebrating International Migratory Bird Day by offering a Fee Free Day at Yaquina Head Outstanding Natural Area. At this time of year, Yaquina Head provides unique opportunities to witness local and migratory marine nesting colonies just off shore from Yaquina Head Lighthouse. In addition, there are woodland song bird habitats and windswept hills where it is common for birds of prey to soar.
This year's theme celebrates the migration of birds to North American breeding grounds from southern non-breeding grounds. The theme, "Life Cycles of Migratory Birds: Conservation Across the Americas" focuses on the need for conservation throughout the life cycle; along the migration journey and in the winter, stopover, and breeding habitats.
This year's events will be offered in both English and Spanish. The activities are as follows:
Peregrine Watch 9 a.m.- 10 a.m.
Come watch the breeding Peregrine Falcon pair! Observe aerial displays, food exchange, and mating calls between the two adult birds at the Interpretive Center. (Bilingual)
Staff-led Bilingual Migratory Bird Walks 10 a.m. & 2 p.m.
Walks will begin at Yaquina Head Interpretive Center. (Bilingual)
Spotting Scopes at Cobble Beach Deck 10 a.m.- 3 p.m.
The US Fish & Wildlife Service and BLM volunteer staff will have spotting scopes available to help educate visitors about the marine birds and their predators. (Bilingual from 12 p.m.- 2 p.m.)
Migratory Bird Activity Table 11 a.m.- 4 p.m.
Visitors of all ages can participate in "Fill the Bill", "Take the Migration Challenge", or participate in the "Bird Scavenger Hunt", some fun hands on activities to help learn about a variety of birds found at Yaquina Head and ways we all can help to protect them. (Bilingual from 11 a.m-12 p.m & 2 p.m- 4 p.m)
Ciclos de Vida de las Aves Migratorias: Celebra el Día Internacional de Aves Migratorias en Yaquina Head Outstanding Natural Area
El sábado, 11 de Mayo, el departamento de Manejo de Tierras (BLM) estará celebrando el Día Internacional de las Aves Migratorias (IMBD) ofreciendo un Día de Entrada Gratis en Yaquina Head Outstanding Natural Area. Yaquina Head provee oportunidades únicas para ver colonias de anidaciones marinas sobre las afueras del Faro Yaquina. Adicionalmente se encuentra hábitat de pájaros cantores en el bosque y colinas formadas por la brisa del mar de donde es común ver aves rapases volando sobre ellas. Este ano, todos los eventos proveerán una experiencia bilingüe en Español e Inglés.
Las actividades del dia son las siguientes:
Observacion de Peregrino 9:00 a.m.-10:00 a.m.
Ven a ver la pareja de Halcones Peregrinos que están haciendo un nido! Observa las demostraciones aéreas, el intercambio de comida, y las llamadas de apariamiento entro los dos adultos con el personal de BLM afuera del Centro Interpretativo. (Bilingüe)
Caminatas Bilingüe de Aves Migratorias Dirigidas por el Personal10:00 a.m. & 2:00 p.m.
Las caminatas de aves empezarán en el Centro Interpretativo de Yaquina Head. (Bilingüe)
Telescopios en la Plataforma de Cobble Beach 10:00 a.m.-3:00 p.m.
El personal de voluntariados de USFW y BLM y tendrán telescopios disponibles para enseñar y educar a los visitantes sobre las aves marinas y sus predatores. (Bilingüe de 12 p.m-2 p.m.)
Mesa de actividad de Aves Migratorias 11:00 a.m.-4:00 p.m
Visitantes de todas las edades podrán participar en "Llena el Pico", vencer "El Reto Migratorio", o tomar "el Juego de Búsqueda de Aves", juegos interactivos para aprender sobre una variedad de aves que se encuentran en Yaquina Head y descubrir cómo todos podemos ayudar a protegerlos. (Bilingue de 11 a.m-12 p.m & 2 p.m-4 p.m)
Para más información contacte a Yaquina Head Outstanding Natural Area (541) 574-3100.
El tema de este año, "Ciclos de Vida de las Aves Migratorias: La Conservación en las Américas" fue creado para celebrar la migración de aves hacia las áreas de reproduccion en la América del Norte desde las áreas no reproductivas del Sur. Se enfoca en la necesidad por la conservación durante todas las etapas del ciclo de vida; durante el viaje migratorio y en los hábitats de invierno, paradas temporales y reproducción.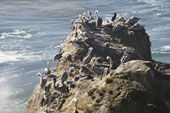 Sino puede ir a Yaquina Head Outstanding Natural Area, usted aun puede participar en casa en La Cuenta De Migración de Norte América (NAMC) que empezó en 1992 y donde observadores de aves reportaron sus encuentros para contribuir a la monitoria de la migración de aves en la primavera. Para más información contacte a Chuck Gates en [email protected]
Sobre BLM: BLM maneja más tierra – 245 millones de acres de superficie- que cualquier otra agencia Federal. Esta tierra, conocida como El Sistema Nacional de Tierras Públicas, está localizada principalmente en 12 Estados del Oeste, incluyendo a Alaska. La agencia, con un presupuesto de $1 billón, también administra 700 millones de acres de patrimonios minerales en la sub-superficie por toda la nación. La misión de uso múltiple de BLM está hecha para sostener la salud y productividad de las tierras públicas para que sean usadas y gozadas por esta y próximas generaciones. La agencia logra esto manejando cuyas actividades como la recreación al aire libre, el pastoreo de ganado, el desarrollo mineral y la producción de energía, y conservando los recursos naturales, históricos, culturales y otros en las tierras públicas.
Submitted By:  Timothy Fisher, Yaquina Manager
Photo By:  Marcus Hinz, OCVA Executive Director
Do you have a story

about the Oregon Coast

?
Share it

with us