BOUNTIFUL OPPORTUNITIES!
October is Oregon Bounty month on The People's Coast, and we have a bumper crop of food, fun and festivities to fete the arrival of fall and help you forget any forecast of frost on the pumpkin. We're talking mushroom, chowder and blues festivals; canine competitions; brewpub BBQs; murder mysteries; historic celebrations; and, honey, don't you dare forget the cornucopia of fresh produce, flowers and, yes, honey available at local farmer's markets up and down the coast.
We admit it: there's a fungus among us.
And it's delicious! This month you can learn how to identify and cook, take a foraging expedition for and stuff yourself to the gills with Oregon's fungal delicacies at the Annual Village Mushroom Festival in Yachats and the Wild Mushroom Cook-off in Lincoln City. Or how about digging into fried Pacific calamari or tempura avocado fingers during the "Happiest of Hours" at the Wayfarer Lounge in Cannon Beach?

If that gives you a case of happy feet, you can kick up your heels at the Chowder, Blues and Brews Festival
in Florence or the Twisted Snout Brewery's Oktoberfest Celebration and BBQ in Toledo.
Harvest a bountiful helping of fresh fruit, vegetables and flowers at farmer's markets up and down the coast. Take a kite-making class at the Kite Festival or learn something completely different at the Fall Learning Feast in Lincoln City. Hop over to Florence for a taste of the Wakonda Brewing Company's brews or to take a stab at solving the hilarious "So Long Saloon" murder mystery over dinner. Hunt for hidden hand-blown glass floats on the beach in Lincoln City.

You'll find an arresting opportunity to show off your old dog's new tricks at the Annual Dog Show at Surfsand Resort in Cannon Beach, where the competitions include Best Frisbee Catch, Cutest Puppy and Best Owner Look-alike. And, yes, we're looking at you, buddy.
You won't need a bloodhound to sniff out the hefty, 25-30 percent discounts at Coldwater Creek, Columbia Sportswear, Le Gourmet Chef and other outlets participating in the Tanger Pink STYLE Campaign in Lincoln City, where the money you save will also help support the fight against breast cancer.

Join the community-wide birthday celebration of the historic Yaquina Bay Bridge in Newport and be a part of history in the making. Tour the Historic Western Art Exhibit at the Yaquina River Museum of Art or hobnob with the artists at the Michael Gibbons and Ivan Kelly galleries during the First Week Event in Toledo.
Looking for some distinctive offers? The Razor Clam Package at Distinctive Beach Lodgings in Gearhart includes complimentary "clamguns" so you can dig up your own catch of the day and cook up the bounty in your own fully equipped kitchen. The Inn at Spanish Head in Lincoln City if offering an Oregon Bounty Package complete with a complimentary bottle of Oregon wine and a hand-blown glass float. And the historic Lighthouse Inn one block from Old Town in Florence is offering special Fall rates in October.
In Cannon Beach, you'll find a Kids Eat Free special at Surfsand Resort, Hop Skip and Jump Into Fall specials at The Stephanie Inn, a Three for Two special at The Ocean Lodge and mid-week special rates at Lands End Motel. Also this month, Ashley Inn and Suites in Lincoln City is offering 25 percent discounts and complementary breakfasts as part of its Girlfriend Weekend Package. You go, girl!
THOUGHT FOR FOOD.
If you're a dedicated foodie looking for a fresh experience, excursion or farm-to-table restaurant, travel on over to the Oregon Food and Drink site at food.traveloregon.com. Then share your moments of gastronomic bliss on The People's Coast with us online, on Facebook or with a brief tweet on Twitter. Ciao!
LEAF THROUGH THIS.
Autumn is bringing out the local color on The People's Coast, and you can find up-to-date information about our fall foliage at the www.oregonfallfoliage.wordpress.com blog. And don't forget to leaf through our free Mile by Mile Guide for everything you'll need to plan an outstanding "Adventurecation" on The People's Coast. Then head out and rake in the scenery.
Featured Events
Wild Mushroom Cook-Off! in Lincoln City
The Wild Mushroom Cook-Off will be held at the Culinary Center in Lincoln City. Enjoy live cooking demos, a wild mushroom identification booth, wine & beer, food vendors, mushroom books, and wild mushrooms for sale. Admission is free. Samples will be available for 50 cents and portions available for $3.
October 1, 2011; 11am – 2pm
For more information visit www.oregoncoast.org/culinary/classes-events or call 800-452-2151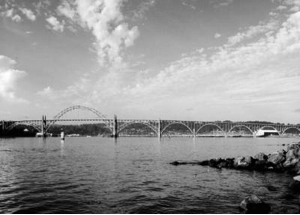 Yaquina Bay Bridge 75th Celebration Weekend in Newport
The Yaquina Bay Bridge was designed by prolific architect Conde McCullough and completed in 1936. The Community of Newport invites you to celebrate the 75th Birthday of the Yaquina Bay Bridge. Planned festivities include a Bridge walk, Re-dedication Ceremony, 1930′s Classic Car promenade, live music, food, vendor booths, 1930′s style Community Picnic, on Sunday, October 2, 2011, and more! Visit the website for a complete list of events. Come be a part of History in the Making!
October 1 & 2, 2011
For more information visit newportchamber.org/press/11_08_9.htm or call 541-265-8801
Yaquina River Museum of Art – First Weekend Toledo Event in Toledo
The museum is hosting a Historical Western Art Exhibit featuring the work of Don Prechtel. A professional working artist since 1968, Don Prechtel is also a historian and an avid collector of antique western and military accoutrements. His studio in Creswell is filled with a large library and a collection of artifacts, which he incorporates into his paintings. The School House Exhibit and Office Building is located at 151 NE Alder Street.
October 1 & 2, 2011
541-336-1907
Gallery Michael Gibbons – First Weekend Toledo Event in Toledo
While living in England some years ago, Michael Gibbons discovered his heightened awareness of Oregon and perceived voice in the State's cultural artistic history. He did this through a series of paintings in which he painted an "English" Oregon concentrating on the wild untamed portions of the landscape. Just such a painting is "VIEW FROM THE BLUFF";a small 12″x 9″ work painted from a viewpoint in a park high above the beach and surf 3 miles north of Pacific City. The weather was on and off raining. This painting expresses the quiet overlooked beauty of the coast Gibbons saw that day. The public is invited to come and see this and many more paintings by Michael Gibbons in his Signature Gallery in Toledo. Join us for an Oregon wine and cheese reception to meet and talk art with Michael Gibbons.
October 1 & 2, 2011
For more information visit www.michaelgibbons.net or call 541-336-2797
Ivan Kelly Gallery-Studio – First Weekend Toledo Event in Toledo
Featuring Ivan Kelly's on-location oil series of Ona Beach. Also showcasing "Sculptured by Pacific Storms", an 8″ x 16″ juried into American Society of Marine Artists National Art Museum Exhibit Tour of 8 public art museums in 6 States which begins October 2011 thru July 2013. Light refreshments will be served during the gallery reception at 207 East Graham Street.
October 1 & 2, 2011; Saturday, 11:00m – 5:00m; Sunday 12:30pm – 5:00pm
For more information visit www.ivankelly.com or call 541-336-1124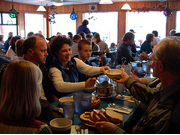 Chowder, Blue & Brews Festival in Florence
Enjoy award-winning chowder, the finest blues music and the best of the best Oregon microbrews at this annual fall festival, located at the Florence Event Center.
October 7 & 8, 2011; Friday, 5 – 11pm & Saturday, Noon – 11pm
For more information visit ww.florencechamber.com/events/chowder-blues.shtml
For more information call 541-997-1994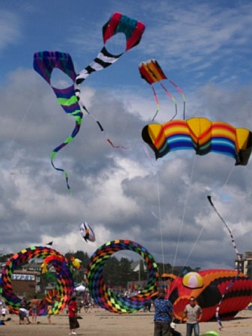 D-River State Wayside from 10AM – 4PM. Admission is free! Kite-Making for kids will be held from 10am – 2 pm and a Kite-Making Workshop with PhantomStarDesign.com will be held from 10am – 11:30am. Please call Ronda at 541-994-8512 for more information on this workshop.
October 8 & 9, 2011
For more information visit www.oregoncoast.org or call 800-452-2151
So Long Saloon: How the West Got Dead in Florence
A hilarious new murder mystery dinner with a big Yee Hawww Howdy. Enjoy with ticket price: salad, bread, choice of entrée, two sides, dessert, coffee/tea, a lot of laughter and at least one murder. Located at the Florence Events Center
October 15, 2011
For more information visit www.poisonpenplayers.com or call 541-999-9281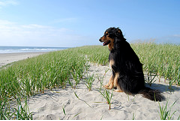 Surfsand Resort – 14th Annual Dog Show on the Beach in Cannon Beach
Join the Surfsand Resort for this light-hearted dog show as they raise money for the Clatsop County Animal Shelter. Over the last 13 years, the Annual Dog Show on the Beach raised more than $13,000 to support the operations of the shelter. Pooches from around the Northwest and beyond will compete for top honors in various categories including Oldest Looking Dog, Best Frisbee Catch, Cutest Puppy, Best Bark and Owner Look-alike. For a complete itinerary, please visit the Surfsand Resort's website.
October 15, Registration begins at 9am
For more information visit www.surfsand.com/pets or call 800-547-6100
12th Annual Yachats Village Mushroom Festival in Yachats
This festival is packed with seminars, expert speakers, foraging expeditions, workshops, fungi exhibitions, guided walks and so much more! For a complete list of all the fungus focused events, please check out the website.
October 21 – 23, 2011
For more information visit www.yachats.org/MFest2011.html or call 800-929-0477
Twisted Snout Brewery Grand Opening Oktoberfest Celebration in Toledo
On tap will be Twisted Snout's Golden Ale, Wilbur's White Wheat, Twisted Snout IPA, Red Headed Step Hog (a red ale), and Honey Oatmeal Porker (a porter). The event will feature live music, dancing, and award-wining barbecue from Pig Feathers BBQ. Twisted Snout is located right next door to Pig Feathers BBQ in Toledo. Owners Stu and Becky Miller and Doug and Dale Rider spent most of the spring and summer this year transforming what had for many years been an antique store into a classy, yet comfortable, brewery and public house at the end of Main Street in Toledo, right across from the marina. Stu and Doug both have many years of brewing experience and share a real love for the art of brewing.
October 22, 2011
For more information call 541-336-1833
Featured Things to Do on The People's Coast
Farmer's Market Oregon Bounty Round-up
Featured Places to Stay on The People's Coast