National Geographic Kids
National Geographic Kids Magazine in partnership with explOREGON: The Pacific Ocean offered kids the chance to win a trip to explore the Oregon Coast.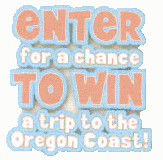 To enter, kids ages 6-14 each submitted a drawing and a letter of 100 words or fewer explaining what they would see, do and explore if given the chance. The contest was open to those that had never been to the Oregon Coast and also to those that had already been. If they had already been their letter was to highlight favorite memories of their previous trips. One winner from each category received an all expense paid trip to the Oregon Coast in July 2008 for themselves and their families.
Here are the top 20 entries from over 800…
The first winner was Adam Carr ~
Adam Carr age 9 from Tampa, FL
Adam Carr
The second winner was Lucy Swim ~
Lucy Swim age 14 from Marysvill, KS
Honorable Mention
The Pacific Lapping at my toes – the sweet scent of the sea breeze – the faint calls of snowy plovers- Oregeon definitely appeals to my senses. A trip to Oregon would be the experience of a lifetime. I have always wanted to visit the Pacific Coast because of the breathtaking scenery and wildlife. If I had the opportunity to visit Oregon I would definitely explore the tidepools and lighthouses; observe various animals like sea lions, puffins and sea otters: and fly kites and roast smores on the beach. Oregon – a state of exotic beauty. an explorers paradise – one awsome trip.
Ruth Bishop